Background of technical development
When unloading hose and its connectors are taken off after completion of unloading of LPG into a bulk storage tank in a conventional bobtail, propane trapped in them is inevitably discharged into the atmosphere.
Although there was no legislation or regulation on the LPG discharged from a bobtail at that time, we, at KOAGAS NIHON Co., LTD (KGN) started the technical development about six years ago in terms of the compliance of the company's creed that the pollution problem and safety should precede all others in our company operations.
The first bobtail carrying a newly developed recovery unit for propane trapped in unloading hose and its connectors was deployed in our fleet of bobtails in 2002.
(Refer to photo of overall view)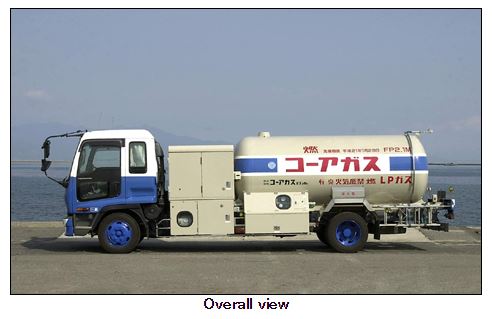 Technical development of recovery unit
The principle of technology in the technical development is the same as our proprietary technology named "MK Blow By-pass System".
It has been used for the long time for the LPG-cylinder filling facility in an effort to recover the propane inevitably discharged outside in the filling work. The most effort in the technical development program was at miniaturizing as well as simplifying the unit to be put on a chassis of limited space.
The manufacturing of such bobtail along with the process optimization of the recovery unit has been undertaken by some prestigious rolling stock manufacturing company in Japan.
Fig.1 shows the simplified process diagram sheet of unloading of LPG and the recovery of trapped propane.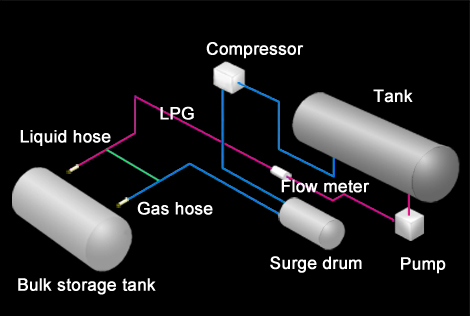 Flow sheet of unloading of LPG and recovery of trapped propane
The recovery unit consists of the four sections, i.e., LPG unloading pump section, propane gas compressor section, section of surge drum for recovered propane and liquid / gas hose section.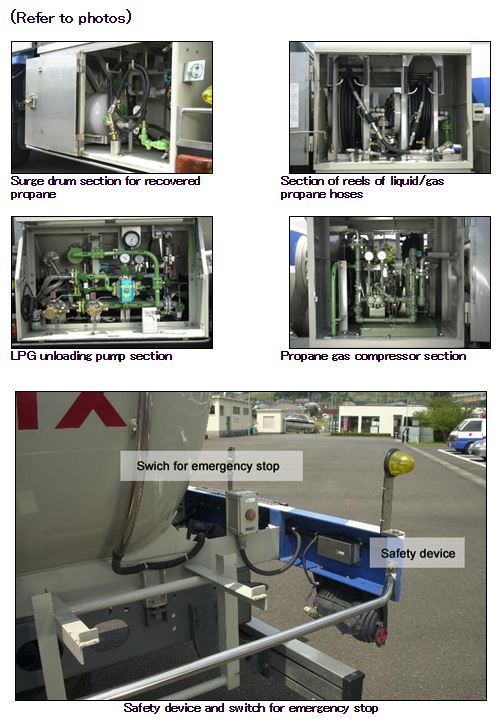 We obtained the US patent concerning such technology very recently.
The patent number and date of patent is US 6,889,728 B2 and May 20, 2005, respectively.
We are applying the related patent in the US as well.
Features and advantages
A surge drum for recovered propane being built-in.
Adoption of self-coupling through which the propane remained in the space between a coupling connected to unloading hose and loading arm to be perfectly recovered when they are taken off after unloading is over.
Carrying a hose for recovery so that the LPG accumulated in a liquid trap of the gas compressor can be recovered without discharge outside.
Increase in unloading rate by over 15 %, namely shortening of unloading time, by using a unloading pump and a gas compressor at the same time.
For this purpose, the hose reel with larger diameter is adopted.
Direct drive system by mission-side PTO for unloading pump, while direct drive system by fly wheel PTO for gas compressor.
It means that the driving efficiency is 100 % in both systems.
Use of recovery unit for recovery of residual propane in a storage tank,etc.
Specification of bobtail
Chassis : Isuzu KK-FSR33K4 with bed and cab
Tank capacity : 1,900 gallons(7,300 litters)
Maximum load : 7,300 pounds (3,300kg)
Liquid charge pump : SANWA HYDROTECK MSS-543-N65-SZ 18.5 gallons / min. at 840 rpm of engine revolution in both cases of forced and unforced runs
Gas compressor: KOHKEN C 90
Unloading of LPG and recovery of trapped propane
A series of unit operations ranging from stationing of bobtail at bulk storage tank yard to closing of casing for attachments of bulk storage tank is shown by photo as follows.
Cost of recovery unit
Although the basic technology is owned by KGN, the commercial bobtails carrying such recovery unit have been designed and manufactured through the designated rolling stock company.
The cost of recovery unit including the increasing cost of chassis for direct drive by mission-side PTO and fly wheel PTO is estimated to be approximately US$40,000 on a Japanese cost basis.
We, under some kind of the secrecy arrangement, are ready to provide the detailed technical information necessary for your cost estimating such as a detailed process flow sheet and an equipment list, etc. if you are interested in this technology.