Organization,Profile and Activities of KOAGAS NIHON group
1.Organization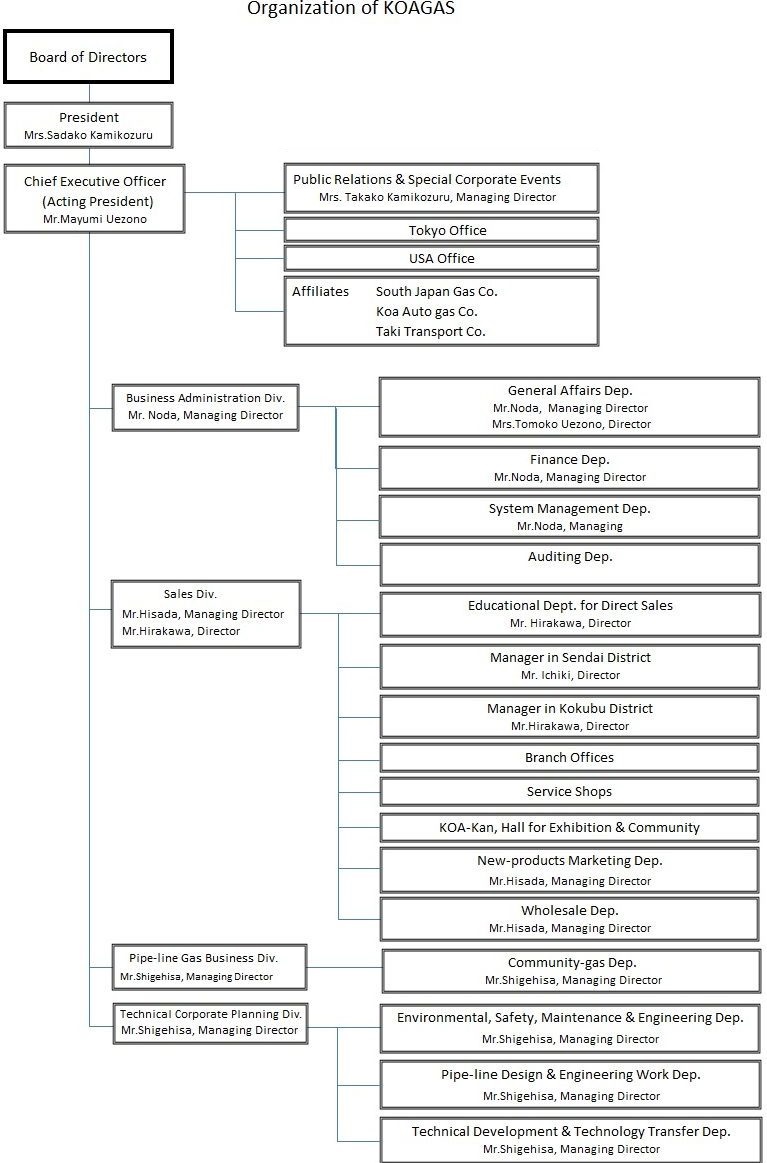 2.Profile and Activities
KOAGAS NIHON Co.

Head office
2-1-13 Usuki, Kagoshima, Kagoshima, 890-0073
Tel 81-99-257-8811
Fax 81-99-252-7073
Tokyo office
609 AIOS Hiroo Bldg.,1-11-2,Hiroo,Shibuya-ku,Tokyo 150-0012 Japan
Tel 81-3-3440-9094
Fax 81-3-3440-9095
U.S.A. office
271 Madison Avenue, Room 608
New York, NY 10016 U.S.A.
Tel/Fax 1-917-261-4491
Establishment
June   1,   1955
Principal officers
Mrs. Sadako Kamikozuru, President
Mr. Mayumi Uezono, Chief Executive Officer
Facilities
・ Branch office(8)
・ Customers service shop(4)
・ Community Gas supplying center (28)
・ LP Gas cylinder filling station (4)
・ Inspection center for LP Gas containers KOA-Kan,"Hall for exhibition & community"
Activities
・ Wholesale, retail of LP Gas and gas appliances
・ Sales of community gas (pipe-line propane gas)
・ Technical development, licensing, design and installation of LP Gas-related processes
・ Inspection services for storage tanks
・ Design and installation of gas-fired air conditioning units
・ Engineering work for gas piping
・ New energy system, fuel cell, photovoltaic etc
・ Consultation about energy conservation
South Japan Gas Co.

The Company was founded for the purpose of supplying town gas at SatsumaSendai, Kagoshima prefecture in 1966.
Since the foundation of the company, we have been committed to the security of safety and technology development and also contributed to the development of community as well as the urbanization through the stable supply of gas to the community.
Afterward, the imported LNG has become to be used as a main raw material of town gas having over 10,000kcal/m3. Along with the shift of raw material to LNG, the request of high calorie gas has risen among our customers. However it was very difficult for the local town gas suppliers like us to get LNG at the economical price and on the stable supplying base.
Under the background of such situation, MK 13A Propane-air Town-gas Manufacturing Process that can manufacture town gas having over 10,000kcal/m3 was developed by ourselves and immediately constructed as a commercial plant at Sendai Factory.
The calorie of the gas supplied has been 15,000kcal/m3 since the start of operation of MK 13A Propane-air Town-gas Manufacturing Process.
We are currently supplying town-gas to approximately 9.000 customers.
In 1996, the second plant of MK 13A Propane-air Town-gas Manufacturing process was constructed at our grass-roots Factory to supply a high calorie gas having15,000kcal/m3to over 5,000 households and establishments in Kokubu area of Kirishima city, Kagoshima.
Both plants are successfully on stream without any big trouble or accident.
Establishment
pril 5, 1966
Head office
3447Oshoji-cho, SatsumaSendai, Kagoshima 895-0076 Japan
Tel: 81-996-22-7111 Fax: 81-996-20-5324
URL minaminihongas.co.jp/
President
Mr. Mayumi Uezono
Factory
・ Sendai Factory located at SatsumaSendai city, Kagoshima
・ Kokubu Factory located at Kirishima city, Kagoshima

Koa Auto Gas Co.
he company was founded to meet not only the increasing demand of LP Gas for automobiles but also enforce the services for the LP Gas engine cars in 1971.
Head office
2-1-13 Usuki, Kagoshima, Kagoshima 890-0073 Japan
Tel   81-99-257-8841
Fax   81-99-252-7073

Establishment

May   1,   1974

President

Mrs. Sadako Kamikozuru

Activities

Sales of autogas
Inspection services for autogas car
Sales of devices for conversion to autogas car and tune up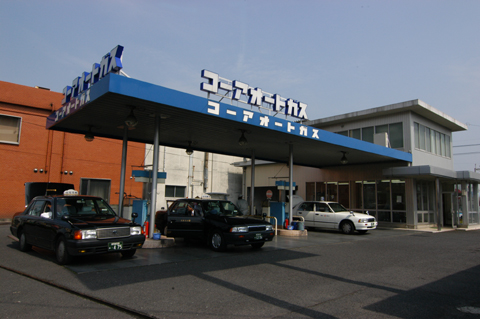 ■Overall view of service station
Taki Transport Co.

Taki Transport Co. is the first company that developed the concept of a tank trailer with a loading capacity of ten long tons and deployed it to the tank-trucking fleet for the first time in Japan.
In 2002, KOAGAS NIHON Group developed a new type bobtail to meet the requirement in the "Bulk sales" age held in store and deployed it to its tank-trucking fleet.
It can not only protect perfectly the LP Gas remained in the hose and attachments from emitting into the air in a process of filling but shorten also the filling time by as much as 30%.
Almost a fleet of bobtails are of this type at present.
Head office
3447 Oshoji-cho, SatumaSendai, Kagoshima 895-0076 Japan
Tel   81-996-22-6111
Fax   81-996-20-5324


President

Mrs. Sadako Kamikozuru


Establishment

December   1,   1981


Field office

6120-5 Aza-karayama, Minato-cho, SatsumaSendai, Kagoshima 899-1924 Japan


Activities

Transportation of LP Gas and its containers, and more