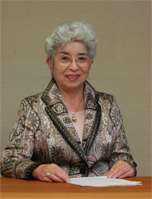 Sadako Kamikozuru, President
Welcome to our Website
On behalf of KOAGAS NIHON Group, I would like to greatly appreciate your visit to our website.
As a leader of our group, I am pleased to go into our profile as well as to brief my views on our proprietary technologies.
The history of our group dates back to the time when I and late my husband founded Sendai Propane Gas Co. the predecessor of present KOAGAS NIHON Co. at Sendai, Kagoshima located in the southern part of Japan in 1955.
The doctrine of the company's foundation that we must supply our customers gas safe, reliable, of high quality based on the development of our own technology and its commercialization.
Good management practices have enabled us to grow up to one of general fuel gas supplying companies in Japan.
Nowadays, our business covers almost every area of LP Gas industry including cylinder and bulk sales of LP Gas, supply of community gas, supply of town gas, sales of autogas, engineering services for LP Gas, sales of gas appliances, technical license of LP Gas technology, and sales of photovoltaic and fuel cell units.
The most outstanding feature of our patent technologies is that they are designed to be kindly-to-the-earth, that is, never discharge any pollutants in the air, energy-conservative type, and exceptionally safety in operation.
(1) Blow by-pass type LP Gas cylinder filling process
Blow by-pass system featuring use of three-way rotary valve will allow you to recover perfectly blow of
propane occurred in filling process without emitting it into the atmosphere.
(2) Customers-calling on-type LP Gas delivery system by bulk lorry
This is the first system in its kind in Japan.
(3) MK 13A Propane-Air Town Gas Manufacturing Process
This process has an exceptional feature in air-heated or air-heated/hot-water dual type vaporizer built in the process. We have the patents with such vaporizers as well as with the process.
We have the patents with this technology in six countries, Japan, USA, UK, Korea, Singapore and Taiwan.
As the atmospheric heat is utilized for the vaporization of liquefied propane for the valuable energy sources such as petroleum, gas, electricity, steam etc, this process is considered as an energy conservative, pollution free, highly-safety process.
(4) Community gas supplying system
This is a system to supply propane gas by pipe line network to each household in housing complex in small, medium, or large scale.
Community gas or propane gas vaporized by air-heated vaporizer utilizing the atmospheric heat is supplied to the households in large scale housing complex.
A wealth of our expertise and know-how in community gas supply sector enables stable supply of community gas even to the housing complex which is located in the area where the configuration is complicated and there are the big differences in terms of the elevation.
(5) MK Bulk lorry (Bobtail)
This is a new generation type bobtail mounted a mini unit for recovery of propane gas remained in a filling hose and attachments on a conventional bulk lorry. This unit can perfectly recover such propane gas that is ordinarily emitted into the atmosphere in process of loading or unloading.
A combinatory run of feed pump and this mini unit can give you a considerable decrease in loading or unloading time.
Six are currently deployed in our fleet.
As far as the details of our technology are concerned, please click the related button.
Our group, as a leader in LP Gas technology and technology-oriented one, is committed to the development of new, innovative technology. Membership of both World LP Gas Association (WLPGA) and National Propane Gas Association (NPGA) indicates how globally we are acting, especially in the field of LP Gas technology.
The principle of our global activities is based on our traditional desire that we would like to create the new technology in collaboration with the LP Gas and its related companies in the world for the purpose of the sustainable growth of the world's LP Gas industry.
From this point of view, we would like you to approach to our group without hesitation.
We are quite confident that our proprietary technology is one that could further reinforce the image that LP Gas is clean.
Therefore, we desire our proprietary technology to be used globally.